Textile can be used to describe any filament or fiber used in the making of the fabric. The Latin word textilis, and the French word "texere" mean "to weave". Textiles used to be limited to woven fabrics. However, they have since expanded to include a wide range of fabrics made by many different processes. These processes include knitting, crocheting, weaving, bonding, and felting. Some textiles also use the principle of papermaking.
Fabrics made from yarn
Fabrics made from yarn come in a variety of colors, textures, and styles. A few fibers are better suited for certain applications than others. Some types are made from synthetic materials, such as nylon or polyester, while others are natural. The yarns can be woven into cloth in many ways.
The fibers in the yarn are generally classified according to their length. The shorter the staple, the less flexible the fabric is. Multifilament yarns contain many filaments, while staple-length yarns only have one filament. These yarns are ideal for linings because they make clothing more comfortable to wear. They reduce wear and snags.
There are many different ways to measure the length and weight of yarn. Some companies measure yarn either in grams or ounces. Others use metric units, like decided. The weight of yarn can vary significantly depending on the type and weight of the yarn. For example, a 50g skein of bulky wool could contain 60 meters of yarn.
A yarn-dyed fabric has a unique look and feel. Often made from woven blue and white threads, denim is a classic example. The process of weaving blue and wilting white threads gives denim its distinctive blue-grey color. A tapestry-like band is often added to yarn-dyed fabric on the reverse side. This adds real texture. The woven design is often raised above the material.
Knitted fabric
Knitted fabric is a soft and breathable material used to make many types of apparel. It is a great choice for active wear and sportswear. It is also highly stretchable, which helps it takes the shape of the body. Knit fabric has many benefits, including its versatility and ease of care.
Knit fabrics have a higher degree of stretch than woven fabrics. This makes them ideal for garments that need a lot flexibility. This makes them great for active wear such as swimsuits or leotards. While woven fabrics will tend to resist stretching, knit fabrics are able to adapt to body curves and maintain their shape.
Knitted fabrics come in many colors and styles. Some are made from filament yarns and have a lace appearance. The latter is best suited for women's clothing and children's wear. Intarsia fabrics are multi-colored yarns that have a pattern distributed on the fabric's surface. This creates a three-dimensional effect with a delicate, subtle look.
Knitted fabrics are typically patterned. They can be made into garments with various stitches, such as the stockinette stitch or garter stitch. Knitted fabrics can be striped horizontally or vertically by using alternating knit and purl stitches. Some patterns may have alternating rows of tall or short stitches or buttons that are knitted into them.
Woven fabric
Woven fabrics have many properties. The most important property of woven fabrics is their elasticity. This determines how a garment fits and feels. The density and interlacing between the threads determine the fabric's elasticity. This natural elasticity helps to prevent woven fabrics from stretching and tearing, and ensures a comfortable fit.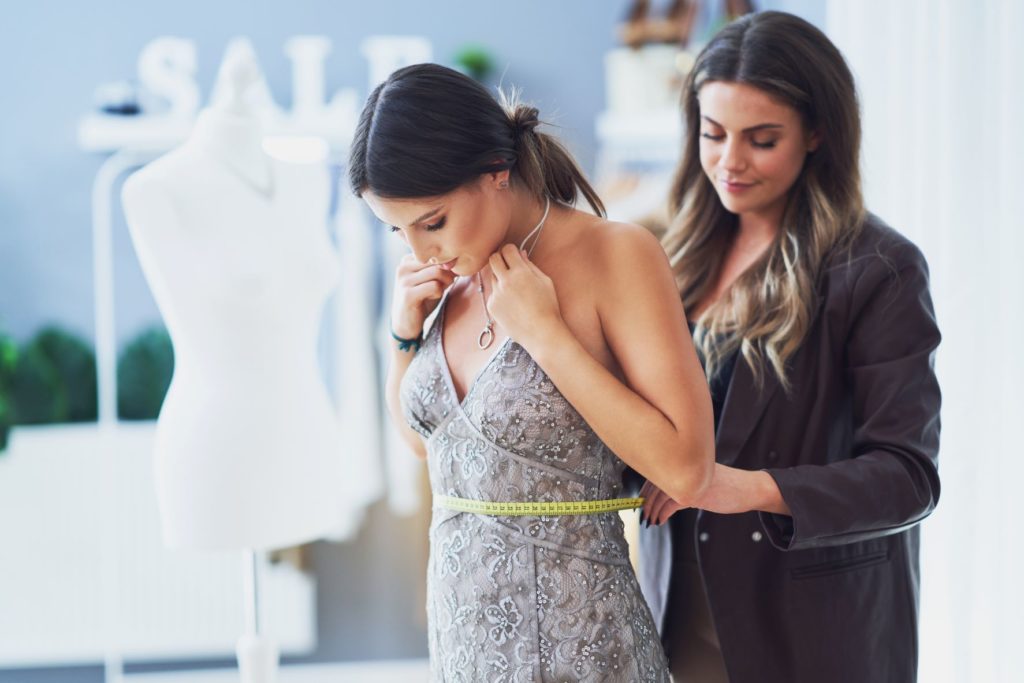 Another important characteristic of woven fabrics is their stability and ease of sewing. Woven fabrics are more durable than knitted fabrics and are easier to cut and sew. They are often used to make clothing and other items. They don't absorb water like knitted fabrics.
Woven fabrics can be either synthetic or natural. Natural fibers come from plants, while synthetic fibers are made from manmade matter. Cotton is a natural fiber, while silk comes from silkworms. Although woven fabric tends to last longer than knitted fabric, it is more expensive than knitting. There are many woven fabrics that can be used to create casual or formal looks.
Another type of fabric is called tulle. It is often made from a thin cotton yarn and is often used with a plain weave. It is similar in appearance to silk and can come in a variety colors and patterns. A fabric with a heavier weave will be made from a thicker yarn.
Modal fabric
Many clothing companies are using modal fabric, which is derived from the cellulose from beech trees. However, the manufacturing of this type of fabric is not entirely ethical, and some companies are even destroying rainforests. This is why you should check the company's practices and the products' ingredients before purchasing.
Modal fabric is a flexible fabric. This means it will not bechy or make you sweat, and it is also resistant to wrinkling. To remove wrinkles, you can safely steam the fabric. It has great elasticity and is also breathable, so it is great for those with active lifestyles.
Modal was first developed in Japan and is now widely used in clothing. It has similar properties to viscose rayon, but it's considered more sustainable due to its lack of waste. It's harvested from beech trees and then processed using a series of chemical rinses. After this, the cellulose is spun into fibers with spinnerets.
Modal is also well-known for its silk-like texture. It has great elasticity and drape and doesn't shrink like other rayons. It also resists fading and is dyeable. It's also biodegradable, so it's great for the environment. It's more sustainable than cotton, which means less water is used during the manufacturing process. However, modal is not suitable for people with sensitive skin.
Spandex
The fabric for clothing made from spandex fibers is extremely elastic and has many unique characteristics. The fiber is made of numerous polymer strands, which are arranged in two distinct groups: long, amorphous segments and short, rigid segments. The amorphous segments have random molecular structure, while the rigid segments are bonded together to form the fiber's structure. When the fabric is stretched, the bonds between the two rigid sections are broken and the amorphous segments straighten. This extends the fiber's length.
Spandex fibers are usually blended with man-made and natural fibers. You can check the label to find out the materials used in making a new garment. Generally, the fabric label will state if it contains spandex. It is a stretchy fabric that can be stretched up to five times its original length. It is extremely durable and abrasion-resistant, making it an excellent choice for clothing.
Spandex fibers are commonly used in clothing, because of their incredible elasticity. They can be stretched repeatedly and return to their original size. They are also soft and smooth and can be dyed easily. They are also resistant against abrasion and compatible with other fabrics. They can be combined with other fabrics to create unique fabrics.
Spandex fabrics can be added to cotton and polyester fabric to make the fabric more flexible. The amount of spandex added to the textile determines its stretch factor. The high-quality spandex fabric will stretch up to seven times its length.
Silk
The silk textile has been in use for more than 5,000 years. It is soft, lustrous, and beautiful, making it a wonderful material for clothing. Legend has it that the textile was discovered while a Chinese princess was drinking tea. The silk strand was released when the cocoon was loosened by the hot water. The silk textile was quickly popularized by Chinese Empress Si Lin, who also invented the loom that produces silk fabrics.
Silk is a soft, flexible, and lustrous fabric that can be used to make elegant garments. It also takes dyes well, which means that it can be found in many colors. Additionally, silk is incredibly durable, with one filament of silk being stronger than a comparable steel filament. This makes silk a durable textile that is great for many types of clothing.
While the primary use of silk is in clothing, silk fibres are also used in a variety of medical products, including bandages and prosthetic arteries. Furthermore, silk is very insulating, keeping warm air close to the skin in cold weather. It is also good at preventing biting insects. Silk can be found in many types of fabrics, such as crepe de Chine, dupioni and tussah.
Many types of insects produce silk textiles, including moth caterpillar and silkworm silks. This silk has been used for centuries in textiles, both home and clothing. Other types of silk include webspinners, and raspy crickets as well as silverfish, fleas, and lacewings.